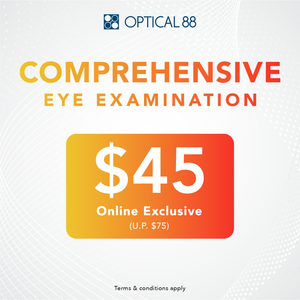 Get this voucher to do a comprehensive eye examination at $45!
A comprehensive eye examination is crucial for identifying your visual needs as well as common eye diseases such as glaucoma, cataract, and retinal problems. Without proper diagnosis and treatment, these eye diseases can permanently damage our vision.

Comprehensive Eye Examination (approx. 45mins)
Case history
Refraction check
Intra-ocular pressure measurement
Binocular vision function test
Colour vision test
Ocular health and fundus examination
Consultation and recommendation
*Comprehensive eye examination report is available by request (with additional charge)
Upon purchase, an e-voucher will be emailed to you. Please make an appointment if you wish to have a comprehensive eye examination.
*Please select marketing opt-in at checkout in order to receive voucher code. If voucher is not received within 30 minutes, kindly contact us at cs@optical88.com.sg
Limited period only. Terms and Conditions apply.